Pallet shapes and sizes
The footprint sizes of a standard pallet are 1.2 by 1.0 metres.
(we accept smaller pallets, provided they can lifted by an FLT truck)
The height of the pallet and its weight will have a bearing on cost.
The simple chart below shows the sizes and weights for FULL, HALF and QUARTER pallets.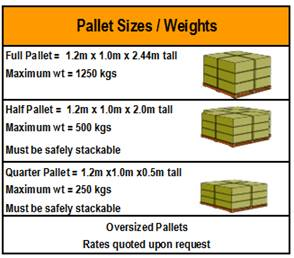 Please note that both HALF and QUARTER pallets must be stackable in order that the cheaper price can be applied. This means we can utilise more space and fit more freight onto the vehicles, hence where the saving comes from.
Pallets must not be closed on any end i.e. American style pallets which can only be accessed by one end. Pallets must be robust and in good condition (see illustration)
What is a Euro Pallet?
A smaller variant of the standard pallet measuring 0.8 x 1.0 metres. Whilst we handle Euro pallets, we do not quote on Euros except for storage.
What is an oversized pallet?
An oversized pallet is a pallet outside the dimensions of a standard pallet. An oversized pallet can be up to 1.6 x 1.0 metres. We can handle much larger pallets and pieces of freight but please call sales to discuss your needs. The same maximum weight of 1250 kgs still applies.