FreightForce is a founder member of the PalletForce network. The synergy in the brand names suggests a strong Norwich link. The founder Directors of both companies are all from Norwich and most of them have worked together at different stages in their careers.
For environmental and economic reasons we use PalletFORCE as a tactical partner to execute freight movements which would otherwise be uneconomical to run on our own vehicles. Typically, this would include small consignments and freight going to far-reaching destinations.
PalletFORCE started life as a member owned palletised distribution network, where members reciprocally delivered for each other, via a centralised hub. Now PalletFORCE is an award winning distribution network, changing the way businesses transport goods – whether large or small consignments.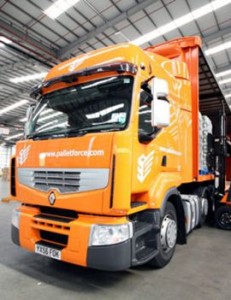 In simple terms, the hub and spoke network enables us to economically deliver palletised freight. Prior to pallet networks, we would have to deliver all our customers' freight on our own vehicles, which proved to be an expensive way for both operator and customer.
Economic and environmental pressures has changed the way we think about freight
Each member has an exclusive delivery area, defined by post code boundaries and a non competing understanding for customers already in that same area. Each working day all members collect their customers' freight, consolidate onto trunk vehicles and then trunk into PalletFORCE's centralised dedicated state of the art hub at Burton on Trent. All pallets are unloaded, checked, weighed, scanned and located in the bay of the receiving depot.
Once all trunk vehicles have been unloaded, the reloading exercise starts and the reloaded trunk vehicles head back to the depots for unloading, routing and loading onto local delivery vehicles. Each pallet is scanned and reported at each stage of the process for live tracking & traceability.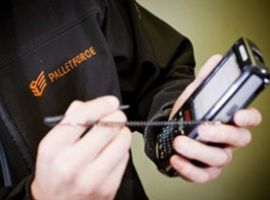 Importantly, PalletFORCE provides an entire infrastructure for the provision of these services, including a hub operation, IT services, sales support, central payments function, centralised ' goods in transit' insurance, operations management and dispute resolution via a members' service committee.
Any freight handled via PalletFORCE has to be processed within strict guidelines, thus providing a consistent quality of service throughout the network of 100+ members.
FreightForce/PalletFORCE Strategy, how the brands work together
Here at FreightForce, we have built our business around the quality of the FreightForce service to our customers. When a customer buys our services, they buy FreightForce and its our vehicles they see at the collection point. Customers have different views and experiences of distribution networks and whilst we work with the best network available, we are always conscious of our customers' views.
As PalletFORCE has developed and evolved, the synergies between the brands grow as do our processes and our shared technology. This process will only accelerate and these developments are shared across the network and further differentiates us within the market place.
Press release: FreightForce Distribution launch major new investment (November 2013)
Track and Trace
As our customer you can easily track your consignments using our iPhone app. Click here for our iPhone app information or use the PalletForce website http://palletforce.com/